Looking for a Career in Accounting?
I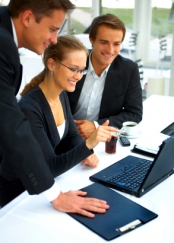 f you're an accountant looking for a career in accounting talk to us today. We are not your typical accounting firm who simply produce income tax returns and financial statements. Here at the Business Ignition Group we strive to be the best in our field and look for accounting staff who want to do more than just tax returns and compliance work. We recognise the fact that business owners want more than just compliance, they want to grow their revenue, profits and business value. Accordingly, we look to recruit team members that fit our core values of expertise, integrity and commitment.
Why could Business Ignition Group be the right accounting firm for you? In a single sentence, we look after and respect our team members and offer more than just a job, we offer you a career. Our white glove treatment extends beyond clients and we are very conscious of our employees work life balance. We invest heavily in both technical training and technology and look for team members who have an eye for detail, a thirst for learning and a pro-active approach.
We also recognise the fact that our practice will only continue to grow if we engage committed team players who are dedicated to helping clients achieve their financial goals. We offer individuals with a passion for accounting, tax and business development a real career opportunity. Principal Mark Rosen says, "Your career can start at any level and while we are committed to graduate recruitment, we also recruit at more senior levels to improve our breadth of knowledge and experience."
Our Commitment to You
We promise team members at our firm that:
Your voice will be heard
Your hard work and contributions will be valued
Your work/life issues will be respected
You will have direct partner contact
You will experience a variety of assignments
You will participate in quality continuing professional development and education
You will have an opportunity for advancement and long term employment
You will have the opportunity to achieve your professional and personal goals
You will enjoy flexible work arrangements
Why Join Our Team?
Business Ignition Group offer team members a generous and flexible compensation package together with a wide variety of additional benefits. We are committed to the well-being of our staff and offer a healthy work-life balance through:
Flexible work hours. We understand you have families and a life outside of work. Being able to enjoy your lifestyle enhances your career.
Discretionary performance bonuses
Continuing professional education including seminars, in-house sessions and conferences
On the job training with exposure to a broad range of industries and assignments
Regular Team Meetings
'Soft Skills' training, including meeting and public speaking techniques, marketing and business improvement skills, writing and communication skills plus Microsoft Office software training
Continuing Professional Growth
Our culture and environment offer a wide range of professional experiences. You will develop taxation and advisory experience within a wide range of industries. You will be able to work on projects with various clients and partners giving you the opportunity early in your career to develop relationships with clients. This broader experience translates into faster professional development
We provide a continuous learning environment as well as extensive on the job training. You can receive up to 50 hours annual professional training
Our team based environment provides all members with the opportunity to participate in the direction and future of the firm (and thus their own career path). Our open door policy provides access to partners and encourages everyone's thoughts and ideas. We encourage excellence and new ideas in all team members, regardless of how long they have been with the firm
What You Need to Bring to the Firm

Our ability to bring value to our clients ultimately rests on our people. Here are the qualities we look for:
Flexibility
Intelligence & common sense
Leadership abilities
Motivation to succeed
A service focus
Team spirit
Initiative
Pro-active approach
Passion
Technical skills
Strong communication skills, both written and verbal
If you think you have what it takes and would like to work in a professional, friendly team environment, contact us today. Simply email your application letter and resume to us at info@businessignition.com.au
Business Ignition Group - Lighting Up Your Business