How to Turn Your Website from an Electronic Billboard into a Marketing Machine (Part 2)
We recently wrote an article titled Half of Australian Small Businesses Don't Have A Website - Surely Not! It got quite a reaction and the statistics came from the 2018 Telstra Small Business Intelligence Report that surveyed the marketing strategies of more than 1,000 Australian small to medium sized businesses.  
The report concluded that 47% of customers under the age of 40 report using a search engine to find or research a small business at least once a day. If that is the case, your website could be the difference between boom, gloom and doom. These statistics also serve as a wake-up call for many business owners suggesting it could be time for a website review, reconstruction, makeover or simple touch up.
In a series of articles we are going to examine nine essential website ingredients that could turn your website from an 'electronic billboard' into a lead generation machine. 
1. CALLS TO ACTION (CTA)

If your website does its job and people land on your pages, what action do you want your prospects to take? It could be … read more, download a free copy, subscribe to our newsletter or add a product to their shopping cart.

Your calls to action can take many forms any ideally you should have multiple calls to action on key pages of your website. Remember, your visitors could be at different stages of their buying journey so give people still in research mode the chance to download an e-book full of information or simply subscribe to your newsletter. For people at a more advanced stage, let them order a sample or get a free consultation or quote. The objective is to capture them (and their contact details) and make sure it's difficult for them to leave your website without taking some form of action.

Your call to action buttons need to be at the bottom of every page, in the header of your website and placed in multiple places throughout your home page. Your conversion of prospects to customers and sales will all hinge on the performance of your calls to action.
2. LEAD MAGNETS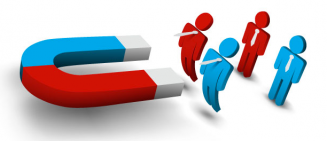 A lead magnet is something of value you offer your website visitors for free in exchange for their contact details.
It's all about attracting subscribers to your email list. In fact, one of the most important roles of your website is to collect contact information. The more valuable and relevant your lead magnet is, the more likely the prospects will exchange their contact details. These prospects become suspects and enter your lead nurturing campaigns that could be a series of emails containing special offers.
 Lead magnets come in many different forms including e-Books, a video, a webinar, a free product sample, an app or a case study. Give your lead magnet a great name that appeals to your audience's needs and you can have multiple lead magnets on your website to cater for prospects at different stages of the buying process. While chefs have their signature dish, you can create a signature piece of content that you give away. If it's high quality information, it could build trust and potentially explode your email subscription list. As a guide, the content should be so valuable that prospects would pay for it and like most things in life, quality is better than quantity. You probably have loads of online competitors but this piece of work could be outstanding and irresistible to your target market.
The content must be genuinely helpful, showcase your expertise and be made available on the web for free. It might be an e-book, a how-to guide, a checklist, template or business planning tool.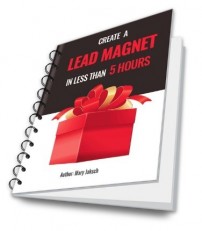 The images you use for your lead magnets are also important. The image can have an impact on your subscription rate, so we encourage the use of a professional graphic designer. Professional images can add to the perceived value and look much more impressive than a standard design. We recommend www.fiverr.com where you can engage a freelance graphic designer to do one page jobs like a book cover. These graphic designers can even convert a conventional flat image into a 3D image of a report, book, box case or video for maximum effect.
Final point, filling out the form should be simple and just request the minimum information you need to get the prospect into your system. The technology is simple. Any decent email software can build a form where contact information can be entered and saved for your follow up marketing.

CONCLUSION
The primary purpose of your website is to drive traffic and create leads. If your website lacks some of these key ingredients you might find it is under performing. Get it right and it is a valuable asset that can give your business a serious competitive edge. Treat your website as an investment not a cost and there are no shortcuts. You need to plan your website with clear strategies and remember, it will always be a work in progress.