Respond to Your Customer Needs!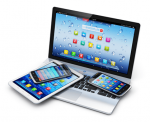 At the start of 2013 we noticed about 10% of our website traffic was coming from hand held mobile devices. By late 2013 this figure had jumped to about 15% but in 2015 we find close to 25% of our website visitors are using mobile devices. Why is this important you might ask?
Well, Google recently announced that it's making another major change to its search algorithms and they have stated, "Starting April 21, we will be expanding our use of mobile-friendliness as a ranking signal. This change will affect mobile searches in all languages worldwide and will have a significant impact in our search results."
As such, you need to ensure your website functions perfectly on hand held devices. Website visitors whether they use a smartphone, tablet or laptop expect to see a website that functions like clockwork, offering the same feel, experience and access to your information. As the percentage of users on mobile devices increases, you need to adapt your website to accommodate these usage patterns.
The key features that distinguish a fully optimized website for mobile devices from a dated one include:
Simplified navigation
Clean page layouts
Compressed design elements
Phone numbers having click to call functionality
Addresses are setup to use the device maps functionality
Calls to action are set-up to work with simple pop-up forms
Effective design tra nsitions that adapt to the screen size and device orientation
If your website isn't 'responsive' to these devices your business will look like a dinosaur in the eyes of Gen X and Gen Y prospects. The internet generation critique poor website functionality and will skip over a poor mobile website in favour of a fully optimized one. Not only that, in the eyes of Google you will get downgraded in the rankings and lose ground on your competitors after April 21, 2015.